A Mhúinteoir, a chara,
You can download your school year planner HERE.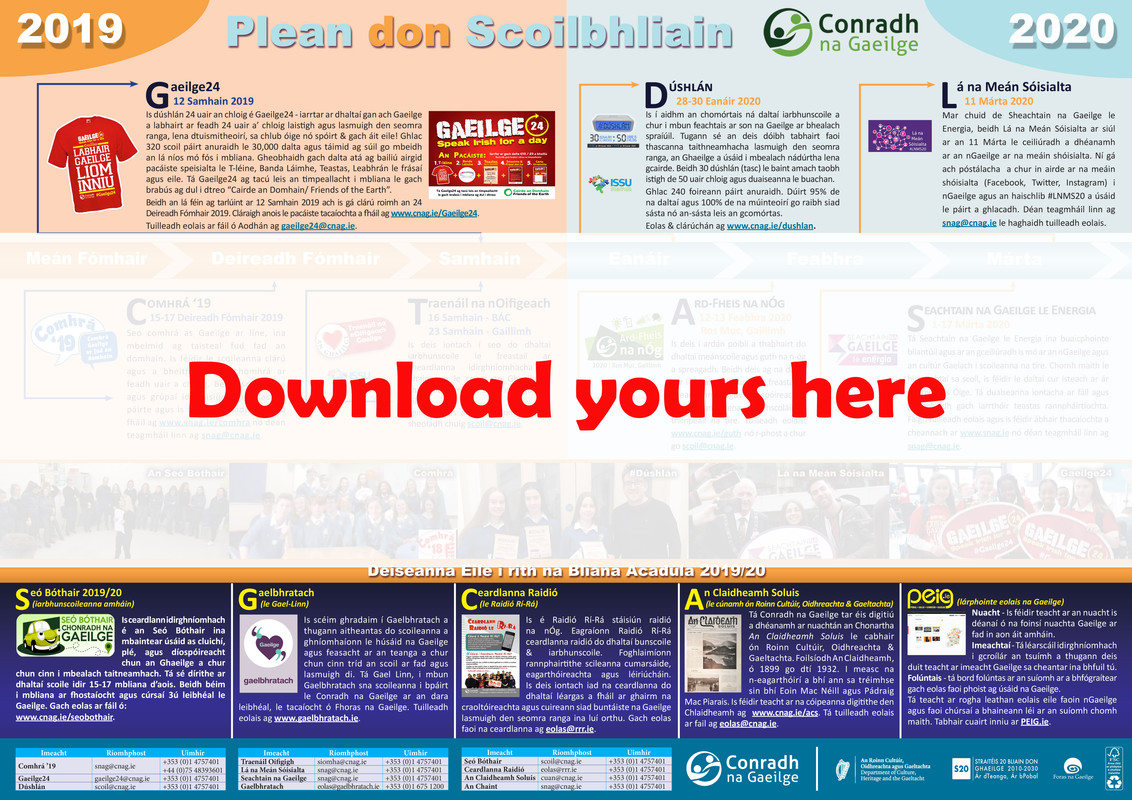 Welcome back to school, I hope you enjoyed the summer! I would like to let you know about the Irish language events Conradh na Gaeilge is organising to assist teachers in raising active awareness of an Ghaeilge during the coming school year.
There is a list of all events planned for 2019/20 in the time-line poster enclosed, which you can display in the staff room or in the classroom (extra copies are available from This email address is being protected from spambots. You need JavaScript enabled to view it.).
We are excited to grow campaigns such as Gaeilge24 which will be taking place for the sixth time on November 12th. Gaeilge24 has grown to become the most exciting nationwide school event of the first term with over 25,000 people taking part in 2016. We hope to make it even bigger this year.
All of these events would not be possible without the support of teachers all over the country. We really appreciate the feedback from hundreds of teachers which has helped us to improve each campaign.
Further information, classroom resources, music pieces and much more are available on our website www.snag.ie and if there are any other features or resources you would like to see on PEIG.ie please do not hesitate to contact This email address is being protected from spambots. You need JavaScript enabled to view it.
Le gach dea-ghuí
Julian de Spáinn, Ard Rúnaí


Contact Details and Summary
Date

Event / Campaign

Contact

Email

Number

15-17/10/2019

Comhrá '19

Orlaith & Síomha (ó dheas)

Seán Ó Murchadha (ó thuaidh)

This email address is being protected from spambots. You need JavaScript enabled to view it.

This email address is being protected from spambots. You need JavaScript enabled to view it.

+353 (0)1 4757401

+44 (0)75 48393601

16 & 23/11/2019

Secondary Officers' Training

Síomha Ní Ruairc

This email address is being protected from spambots. You need JavaScript enabled to view it.

+353 (0)1 4757401

12/11/2018

Gaeilge24

Aodhán Ó Deá

This email address is being protected from spambots. You need JavaScript enabled to view it.

+353 (0)1 4757401

28-30/01/2020

Dúshlán

Caolán Mac Grianna

This email address is being protected from spambots. You need JavaScript enabled to view it.

+353 (0)1 4757401

12-13/02/2020

Ard-Fheis na nÓg

Eve Ní Bhriain

This email address is being protected from spambots. You need JavaScript enabled to view it.

+353 (0)91 567824

Ongoing

Seachtain na Gaeilge le Energia

Orlaith agus Sophie (o dheas)

Seán Ó Murchadha (ó thuaidh)

This email address is being protected from spambots. You need JavaScript enabled to view it.

This email address is being protected from spambots. You need JavaScript enabled to view it.

+353 (0)1 4757401

+44 (0)75 48393601

Ongoing

Gaelbhratach

Edel (meánscoileanna)

Mairéad (bunscoileanna)

This email address is being protected from spambots. You need JavaScript enabled to view it.

This email address is being protected from spambots. You need JavaScript enabled to view it.

+353 (0)1 675 1200

+353 (0)1 675 1200

Ongoing

Mythbusting

Dáire

This email address is being protected from spambots. You need JavaScript enabled to view it.

+353 (0)1 4757401

Ongoing

An Siopa Leabhar

Gráinne Ní Mhuilneoir

This email address is being protected from spambots. You need JavaScript enabled to view it.

+353 (0)1 4783714

Ongoing

Seó Bóthair (meánscoileanna)

Sorcha Ní Chnoic

This email address is being protected from spambots. You need JavaScript enabled to view it.

+353 (0)1 4757401

Ongoing

Ceardlanna Raidió

Niamh Ní Chróinín

This email address is being protected from spambots. You need JavaScript enabled to view it.

+353 (0)1 4757401

Ongoing

An Claidheamh Soluis

Cuan Ó Seireadáin

This email address is being protected from spambots. You need JavaScript enabled to view it.

+353 (0)1 4757401