New legislation from the Department of Finance that came into effect on 11th March 2022 means Irish language or bilingual versions of marriage, civil partnerships, death and birth certificates can now be accessed in the north for the very first time. Previously, official documents of this nature were available in English only. A commitment was given as part of the New Decade New Approach Agreement in January 2020 to update the legislation to ensure new certificates could be created to include Irish or to display the wording bilingually. This work was subsequently taken forward by the Department of Finance over the last two years. There remains several further steps to ensure the full service provision is available bilingually.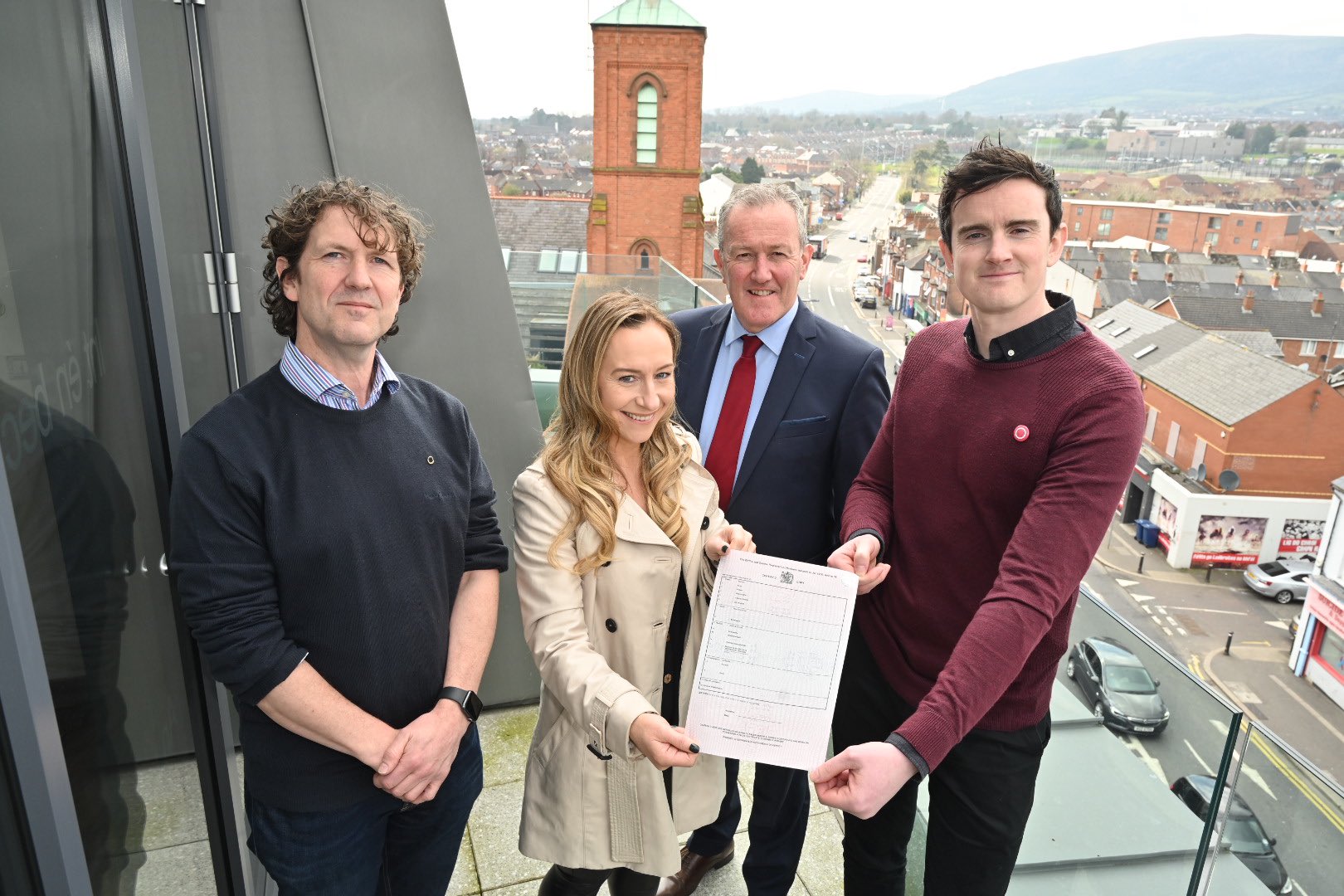 The new registration certificates were officially launched by Finance Minister Conor Murphy MLA with Conradh na Gaeilge at Áras na bhFál in Belfast. Pictures and captions are attached below.
Dr Pádraig Ó Tiarnaigh, Communication Manager with Conradh na Gaeilge, said:
"Conradh na Gaeilge welcomes the introduction of the Irish language on official registration certificates. This is a small but significant step for the Irish language community. Irish speakers have long since been denied the opportunity to avail of official documents and certificates in the language of their choice. This new process will facilitate that choice, for those who wish to access documents in Irish or bilingually. That choice will not affect those who do not wish to use or see Irish on their documents. These are very basic services available across these islands. We look forward to continuing to work alongside the Department of Finance in developing the next stage of the registration processes in Irish as soon as possible. Small steps like these should be recognised as inclusive developments recognising the language in law after decades of marginalisation. Language rights must be accessible, they must be practical and the must be visible. Therefore, we encourage local councils and Government bodies to proactively offer the linguistic options available whenever they can."
Finance Minister Conor Murphy MLA commented:
""I am delighted my Department has begun to deliver on this New Decade, New Approach Commitment. Headings for new registrations can now be in English, Irish or Bi-lingual English and Irish. This gives people more choice when registering births, marriages, civil partnerships and deaths. It is a step towards equality for Irish speakers but it is only the first stage in this journey. My intention is to work towards the full registration being conducted in Irish in the next mandate."
The new legislation can be accessed here:
https://www.legislation.gov.uk/nisr/2022/48/pdfs/nisr_20220048_en.pdf
END
PHOTO CAPTIONS
Picture 1 (L-R): Julian de Spáinn, Conradh na Gaeilge, Gearóidín Nic Cathmhaoil, Glór na Móna, Conor Murphy MLA, Minister for Finance, Dr Pádraig Ó Tiarnaigh, Conradh na Gaeilge.
Picture 2 (L-r): Dr Pádraig Ó Tiarnaigh, Conradh na Gaeilge, Conor Murphy MLA, Minister for Finance, Gearóidín Nic Cathmhaoil, Glór na Móna, Julian de Spáinn, Conradh na Gaeilge.
FURTHER INFORMATION:
Dr Pádraig Ó Tiarnaigh
Bainisteoir Cumarsáide, Conradh na Gaeilge
00447716690237 | This email address is being protected from spambots. You need JavaScript enabled to view it.
Conchúr Ó Muadaigh
Bainisteoir Abhcóideachta, Conradh na Gaeilge
00447596520262 | This email address is being protected from spambots. You need JavaScript enabled to view it.
EDITOR'S NOTE:
Conradh na Gaeilge is the democratic forum for the Irish-speaking community. The Conradh has over 200 branches and numerous individual members registered around the world, members that work hard to promote the use of Irish in their own areas. Conradh na Gaeilge's main aim is to promote the use of Irish as the standard language in Ireland. Conradh na Gaeilge was established by Douglas Hyde, Eoin Mac Néill, and their colleagues on the 31st of July 1893. The organisation runs Irish-language courses; advocates for the language rights of Irish-speakers; raises awareness about the language; hosts the international Irish-language festival Seachtain na Gaeilge; manages the Irish-language information hub PEIG.ie and the Irish-language bookshop An Siopa Leabhar; supports Raidió Rí-Rá; and much more. More information: www.cnag.ie